While finding Ethernet cables, you may hear the category of Braided Ethernet cables. But, it might be confusing whether they will work fine for you or die soon.
In terms of look, the Braided Ethernet or other cables is amazing. I've recently brought a Braided Ethernet cable, and here in this post, I'll be sharing my experience with this cable.
So, Are Braided Ethernet Cables Good?
YES! The Braided Ethernet Cables are fine in terms of durability, flexibility, EMI protection, and looks. Nowadays, companies are making these types of Braided cables to make the cable last longer. Hence, this braided shield enhances the life of your cable.
* Here are some top quality Braided Ethernet cables you can find on amazon!
The braided cables are also flexible, which will help you in any critical situation. Also, these braided shields are weatherproof and protect the wires from many difficult moments.
But, these are not enough to know because, with a Braided Ethernet Cable, you'll get many more advantages listed below. Let's check them.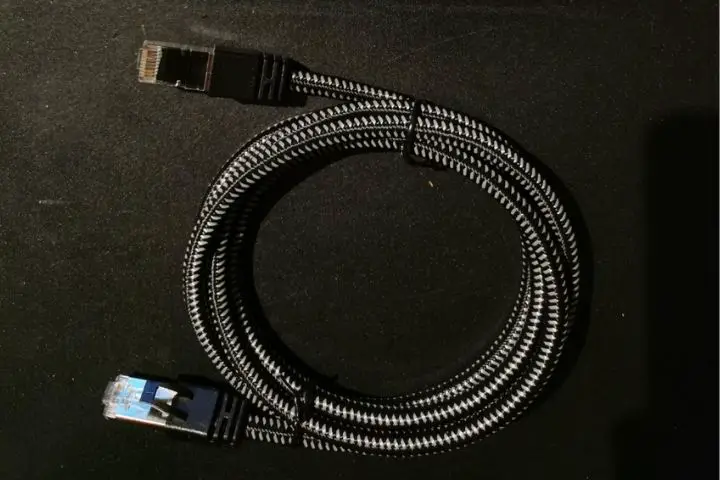 What are the Braided Ethernet Cables?
Braided Ethernet cables are, as usual, regular Ethernet cables, protected with materials like Nylon, Polyester, PET, and others to provide extra durability, flexibility, Electromagnetic radiation protection, heat resistance, and other vital requirements.
The braided cables are durable, and mostly Nylon Braided Ethernet is used worldwide for everyday usage. But there are different materials for different needs.
You can find braided cables not only for Ethernet cables but also for every cable available nowadays.
There are also Braided Sleeves on the market for those with regular rubber or plastic cables who want to protect them. So you have an excellent option if you use a regular cable and want it to last long.
The braids are made with different materials, which you can find below.
Materials Used in Braided [Ethernet] Cables
Nylon: Nylon is the most used braided material for cables. Whether offline or in the online store, you can see the Nylon braided cables everywhere in most cases. The Nylon material, as we know, is very durable. Not only this, but Nylon is also very lightweight, and its flexibility is also perfect. So if I have to buy a Braided cable, I'll definitely go with Nylon Braided.
Polyethylene terephthalate (PET): If you're using an Ethernet in sensitive places or places subjected to being warm, then PET Braided cables are good as this is mainly used for heat resistance. Not only is it heat resistant, but this material is also solid, flexible, and other. The usage of this material as Ethernet Braided is low.
Polyester: Polyester is also a widely used material to braid a cable. The usage of this material for Ethernet cables is also high [second highest use case]. The material is best on the list for flexibility, and it is also Corrosion-resistant, which means it can handle heat as well.
Polyphenylene Sulfide Monofilament (PPS): This material is suitable for really high temperatures [you may find this braided material in factories and other substantial working stations]. You can have this material braided as a sleeve.
Nomex: This material is known for being lightweight and having thermal stability. This material is best to use near chemicals and other abrasions. Again, there are few direct use cases for Ethernet cables, but you can have this braid as a sleeve.
There might be various other materials for different purposes that anyone can have custom orders to companies. But the most used are Nylon and Polyester braided ethernet cables.
Benefits of Using a Braided Ethernet Cable
Although you might get enough clues about the advantages of having a Braided Ethernet cable, I've explained it further to highlight it here. So let's check them.
1. Durability
The durability of braided cables is mind-blowing. The braid is made with solid material [nylon, polyester, and others], making your cable last longer and helping you in difficult situations.
So if you need an extra durable Ethernet cable, Braided cables are great. This will last longer than the standard ethernet cables.
Nylon Braided ethernet is awesome if you want a long-lasting Ethernet cable.
2. Flexibility
Flexibility is another plus point of having Braided cables. Materials like Nylon, Polyester, Polyethylene terephthalate, and others have good flexibility. Thus your cable will be safe from unnecessary stretching.
So you'll have tension-free long working sessions and a stable internet connection with a braided ethernet cable.
I also experienced the same; I own a Nylon Braided Ethernet cable [Amazon Basics model], and many times it gets stretched, but the cable is still brand new, with no damage, and working fine.
3. Outside EMI Protection
The twisted pairs of wires in the Ethernet cable transmit electromagnetic radiation. So often, if your cable is not that protective or of poor quality, it can catch the outside EMI if you have any source of EMI.
Although a suitable Ethernet cable is well enough to eliminate the Electromagnetic field of outsiders, the braided ethernet can give you extra protection if you have heavy EMI.
And this extra layer and elimination of EMI will serve you a stable internet connection.
4. Premium Looks
When I purchased my Braided Ethernet, the look was one of the reasons which convinced me. The braided cables give a premium look.
It catches the eyes faster than standard cable, and the patterns are also fantastic.
There are also other benefits, such as heat resistance, chemical resistance, and more, resulting in fruitful results.
Braided vs. Normal Rubber Ethernet Cables
You might now understand the extra benefits of using Braided Ethernet cables over Normal Rubber cables. Still, I've listed down below:
Braided Ethernet cables are more secure and give a stable connection as they can eliminate extra Electromagnetic radiation [EMI] than standard rubber cables.
Normal rubber cables are not as durable as Braided cables. Braided cables have extra protection from materials like Nylon, Polyester, and others.
You'll not have flexibility like Braided cables in a normal rubber cable. Thus, normal cables can damage if they get an unnecessary stretch. But your Braided cable can survive this situation.
Braided cables look more attractive than normal rubber or plastic cable.
Many Braided cables like Polyphenylene Sulfide Monofilament (PPS) and Polyethylene terephthalate (PET) protect your cable from extra heat.
Nomex is a material often used as a braid of cables and is known for eliminating chemical reactions and protecting your cable.
So, Which One You Should Buy?
It depends on your needs. A standard rubber ethernet cable is fine for you if you're a regular user. But, if you're a heavy user, play games, stream, and do other heavy tasks and want your ethernet cable to last long, then Braided ethernet cables are a blessing.
Here are some excellent models you can choose from Amazon. I like to purchase ethernet cables from amazon as they have fast delivery, and also, if you have any issues after purchasing, you can return them free of cost.
What are some Best Braided Ethernet Cables?
1. Amazon Basics Braided RJ45 Cat-7
Standard: CAT 7
Snagless plug design
Gold-plated contacts
10 gigabit per second transmission speed
600 MHz bandwidth
Shielded twisted pairs
Premium braided nylon cable
Size Options: 3-foot to 50 foot
2. UGREEN Braided Cat 8 Ethernet Cable
Standard: CAT 8
Shielded twisted pairs
Cotton braided cord
40Gbps transmission speed [good for gaming]
2000 Mhz bandwidth
PoE Supported
Size Options: 6 foot to 65 foot
Price: $7 to $33 [check the latest price on amazon]
3. CableGeeker Braided Cat 7 Ethernet Cable
Standard: CAT 7
10 gigabit per second transmission speed
600Mhz bandwidth
Nylon braided layer
Shielded twisted pairs
This is a Flat ethernet cable [great to install in small spaces & under carpet]
Gold plated contact
This cable is great for gaming
Size & Price: Check here on Amazon
Note: You might have a question about why I'm talking about CAT 7 and CAT 8. Generally, I mainly suggest CAT 6 as various companies are lying with CAT 7 and CAT 8. But these cables are good enough to have stable and fast internet connections.
So these are my choices; you may have a question about why I listed these. Firstly, all three brands are great; they have been making Ethernet and other cables for years. All the cables have good reviews on online stores like Amazon and others.
I own the second one, and it's been almost 3 years still. I'm using it without any issues. All these cables have good braids, and all twisted pairs are shielded to give you extra stability and protection.
The last cable is also a Flat Ethernet cable which is excellent if you have a small space and want to install it quickly and look everything neat and clean.
The specs of all these cables are well enough. Still, you can read those carefully before purchasing.