iVANKY is one of the great brands for electronic cables. This company was founded in May 2016. This brand is known for its Video, Audio, PC, and other electronic products.
They have a good marketplace of HDMI, DisplayPort, USB-C, and other cables. They have a pretty good DisplayPort Cable which is perfect for heavy usage and gaming, so here we have the full review of iVANKY DisplayPort Cable. So keep reading this post to know more.
iVANKY DisplayPort Cable Review
Here we have the review of iVANKY DisplayPort 1.4 (Model no: IVANKY-DD01P) Cable which is quite popular for DisplayPort users.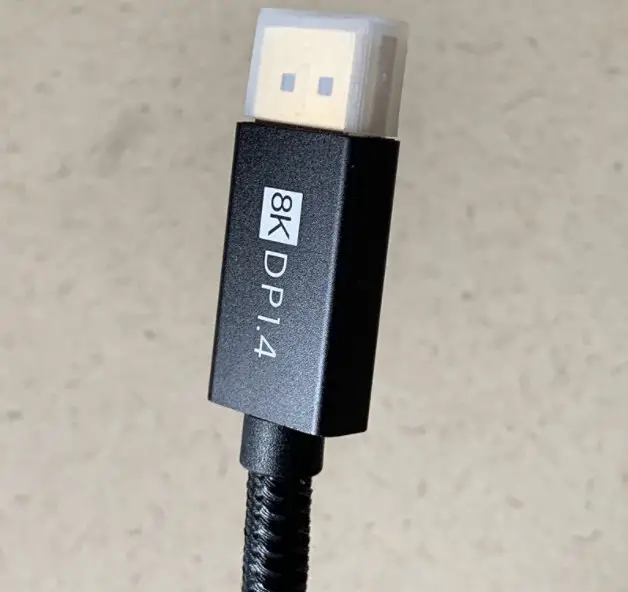 Full Specifications
| | |
| --- | --- |
| Brand | iVANKY |
| First Date Available | 01 August, 2019 |
| Model No | IVANKY-DD01P |
| Item Weight | 181.437 gram |
| Connector Gender | Male to Male |
| Cable Type | DisplayPort 1.4 |
| Compatible Devices | Monitor |
| Length / Size Options | 3.3ft; 6.6ft; 10ft; 15ft |
| Bandwidth | 32.4 Gbps |
| Data Rate | 25.92 Gbit/s |
| Resolution | Up to [email protected], [email protected], [email protected], [email protected], [email protected], [email protected], [email protected] |
| Refresh Rate | [email protected], [email protected] |
| Connector Type | DisplayPort (DP) |
| Special Features | Forward Error Correction (FEC), FPS, Anti Interference, 3D Video, HBR3, HDCP 2.2, HDR, DPCP 1.0, DP++, Stereoscopic 3D video, Multi-stream Transport (MST), DSC |
| Bend Lifespan | 15,000+ |
| Warranty | 54 months (18+36 months) |
| User Ratings | 4.8/5 |
Built Quality
iVANKY DisplayPort Cable is a latch-free designed cable that makes it easy to plug and unplug. The company says it can handle up to 10000+ plugs and unplugs. It has a quality Silver-plated Wire which actually reduces the signal loss as well as increases the Transmission Stability.
It also has 28 AWG Tinned Copper to eliminate Flickering/Black Screen and a comfortable gaming taste.
It is made of premium Slim Aluminum Shell and has good quality nylon braided jacket. This nylon jacket provides a 15,000+ bends lifespan. So obviously it is heavy usage DP cable and made for hard gamers. The brand also says you don't have to worry about the damage.
This cable comes in one colour of Black and has 4 variants of the size of 3.3ft, 6.6ft, 10ft, 15ft. So you can choose what size is perfect for you.
Technology & Performance
Now, coming to the most important part of Performance, this cable comes with [email protected], [email protected] high refresh rate which can handle No Frame Drop as a result you can easily track the movement of enemies. So gamers will get a great experience.
It supports resolutions up to [email protected], [email protected], [email protected], [email protected], [email protected], [email protected], [email protected]
The maximum data rate of this cable is 25.92 Gbit/s. It has some great features like: Display Stream Compression 1.2 (DSC), Forward Error Correction (FEC) and a maximum of 32 audio channels, Stereoscopic 3D video, Multi-stream Transport (MST), and Anti Interference.
It is also backward compatible with DisplayPort 1.3/1.2/1.1. The company says you will get a Flicker Free Gaming experience. So these are the features you will get with this cable.
Warranty
This product has launched with 36 months Warranty but recently they extended it for more than 18 months if you register your product to iVANKY's official website after purchasing from anywhere.
So the total warranty time is 56 months. You can also contact the company for more information.
User Ratings
Since launching till now this product has acquired a good success rate, as well as users trust, not from a specific country but from all around the world because of its great performance and good customer service.
This Cable has archived 4.8 user ratings out of 5 on Amazon. So defiantly it is a perfect cable if you are looking for it.
FAQs
Is this cable work on a 1080p,144hz monitor?

Yes, it will work with a 1080p @144hz monitor, so long as it has a DisplayPort.

Does this cable support 1080p @ 240hz?

Can I use this to extend one laptop screen to another laptop screen?

No, It will only work with output devices to an input of a monitor.

Does this support UHD?

Yeah, It is fine with UHD.

Does this fit Xbox Series X?

No, this is a DP cable but Xbox works with HDMI cable.

Is the 20 pin active?

No, 20 pins are not active.

Does this Cable work on PS5?

PS5 requires an HDMI cable but this is a DisplayPort Cable. So it will not work.

Can I use this cable for 1080p at 165hz?

Yes, it is perfect with 1080p at 165hz.

Is it a good Cable for Samsung Odyssey G9 Monitor?

Yes, it is perfect with Samsung Odyssey G9.
---
So, guys, we hope this review was helpful and influence you. So many people are using this cable for many different works, even we have a great experience with that particular DisplayPort Cable, so definitely this is a successful item.
This cable got a ranking of #63 on Amazon. If you still have any questions, suggestions or confusion then don't hesitate to comment below because we help everyone.
So if you like then please share this with your techy friends.