Whenever we purchase something, we'd like to know if some particular brands are doing well for that product. And this is completely great as we should not end up buying low-quality items.
Similarly, the Ethernet cable is currently one of the most important cables for all of us, as we can't live without the internet anymore. So here I've discussed some key points to check before buying an Ethernet cable.
So, Do Ethernet Cable Brands Matter?
According to most heavy internet users, an Ethernet cable's quality is much more essential than the Brands. But most good brands hardly compromise their cable quality, so we can easily go with a trusted brand. To go with any brand, you've to check a few things.
Maybe you've already decided on a cable, but you're confused as it is not from a recognized brand. But don't worry, here I've listed a few things to check the quality of any Ethernet cable before buying it.
Here're also some great brands you can choose from.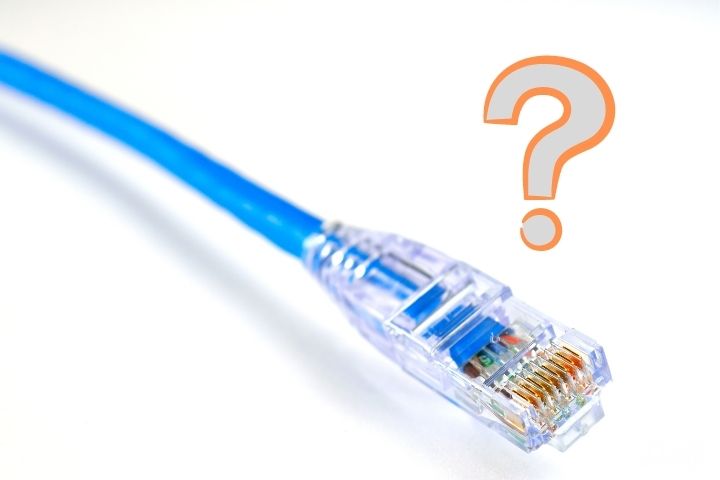 Things that Matter the Most in an Ethernet Cable
Here're a few things I believe are the most important points to consider while buying an Ethernet cable. After reading these points, you'll be a master, but you've to promise me you'll read everything carefully.
1. Newest Category [CAT 5e to CAT 6]
There are various categories of Ethernet cables. After being discovered in 1970, Ethernet cables developed a lot, and that's why there are different categories.
The newest categories are CAT 5, CAT 5E, CAT 6, CAT 6E, CAT 7, and CAT 8. But the most popular category is CAT 6. There is also a belief that there is no CAT 7 and 8 Ethernet; both work the same as CAT 6.
While purchasing an Ethernet cable, ensure it is not lower than CAT 5e. My recommendation is to go with CAT 6 cables. Here you can find some of the most sold CAT 6 cables on amazon.
2. Well Constructed Cable
There are various parts in an Ethernet cable that needs to be constructed well. Firstly, suppose the connectors of the Ethernet are built with a gold plate.
In that case, it can transfer accurate data, serve corrosion-free connectivity, and provide the best durability.
Secondly, the cable's braid should be made with good-quality material. If your cable's braid is good, it will be durable and last many years because it can eliminate unnecessary damage.
Though this is not much important, you go with Nylon Braided Ethernet if you're concerned about that.
Lastly, please make sure the conductors of your cable are made with solid bare copper because it enhances the performance of your cable.
Many companies used to put Copper Cladded Aluminum wires which will oxidize after a few times, and you'll have issues. So pure copper wire is much needed for ethernet cables.
3. Speed and Bandwidth
Speed and Bandwidth are two huge factors when it comes to Ethernet cable. Speed is the metric in Ethernet cable to measure how quickly your cable can transmit data. Although, some other factors decide the speed.
But your cable also plays a huge role in transferring your data at maximum speed. So if you're a regular user, you can go with a speed of 100mbps. However, 100Mbps is not a bad speed [I should say it's a good speed]; it can perform most things smoothly.
But, for heavy tasks like long gaming sessions, 4k streaming, and other stuff, I recommend you have at least 1Gbps to 10Gbps speed.
To futureproof yourself nowadays, I recommend you have 1Gbps to 10Gbps speed.
Similarly, Bandwidth plays a vital role; it is a metric to track the maximum data your cable can transfer at a time; for Bandwidth, you can with 100 MHz [for everyday usage with 100Mbps speed] to 250 MHz [for heavy use with 1Gbps to 10Gbps speed].
| | | | |
| --- | --- | --- | --- |
| Category | Shielding | Max Transmission Speed (100 Meters) | Max Bandwidth |
| Cat 3 | Unshielded | 10 Mbps | 16 MHz |
| Cat 5 | Unshielded | 10/100 Mbps | 100 MHz |
| Cat 5e | Unshielded | 1000 Mbps / 1 Gbps | 100 MHz |
| Cat 6 | Shielded or Unshielded | 1000 Mbps / 1 Gbps | >250 MHz |
| Cat 6a | Shielded | 10000 Mbps / 10 Gbps | 500 MHz |
| Cat 7 | Shielded | 10000 Mbps / 10 Gbps | 600 MHz |
| Cat 8 | Shielded | 25 Gbps or 40Gbps * | 2000 MHz |
Note: Speed will vary with length; you can get more speed if the cable is less than 100 meters
Hence, anyone can have an Ethernet cable that is CAT 6 because it has that much speed and bandwidth [Speed: 10 Gbps; Bandwidth: 250 MHz, if the length is 55 meters] to perform most things; thus, it is also futureproofed. Here you can check some of the best CAT 6 cables.
# Length
Length plays a significant role in your Internet speed. Long cables can decrease the internet speed. So it is crucial to consider this because different people have different length needs.
So if you need 10 Gbps speed and 250 MHz bandwidth, then CAT 6 is fine, but the length should not be more than 55 meters.
But if you need length more than that, your speed can decrease slightly, but I think you'll not have any issues as that speed is well enough for anything.
So to educate you guys, I've added how length can increase and decrease the speed.
4. Shield
There are two types of Ethernet cables for security purposes. One is Shielded [STP], and the other is Unshielded [UTP].
STP or Shielded Twisted Pairs provides more protection from Electromagnetic Interference [EMI]. In STP, all the wires inside your Ethernet are protected with aluminum foil to prevent cross-talk and provide more speed. So this is mainly used for high-speed connections like Data Centers, a places with high EMI.
UTP or Unshielded Twisted Pairs don't have the extra EMI protection of aluminum foil. So it should not be used in sensitive areas. But don't confuse yourself; UTP is fine for home and office usage. Most of us use UTP for our home network.
So if you're buying Ethernet for a susceptible area like Data Center and others, STP cable is a must. But for regular usage, you can use UTP [or STP as well].
Which Brands Are Best for Ethernet Cable?
Here I've discussed some best brands for ethernet cables [regular patch ethernet cables]. All the brands I've listed are the best, and after looking at all the stats, you can decide which one is the best fit for you.
So here are the best brands for Ethernet cables:
Brands
Founding Year
Average People Rated on Amazon
[average of Top 5 most sold Ethernet cables]
Average Ratings
Amazon Basic
2009
21,212
4.72
Cable Matters
2009
9422
4.78
Monoprice
2002
4663
4.7
Mediabridge
2013 [as Bitposter]
10,739
4.7
UGREEN
2012
11,892
4.68
Popularity Stats are based on Amazon.com [as of 2022 Q1], and the average numbers are from each of these brands' top 5 most-selling ethernet cables.
About the Stats: These stats are collected from amazon.com; first, I selected the top 5 best-selling Ethernet cables of each brand and then calculated their average ratings. These numbers can change with time. Also, some brands may have low numbers, but that does not mean the brand is wrong; they might be promoting their products more outside of amazon, and various other factors can work here.
#Cable Matters
Cable Matters is one of the famous companies for Ethernet cables and every type of cable available on the market. You may get a hint about the company by its brand name.
The company is a giant Tech cable field. Cable Matters was launched in 2009 in the USA. But now they are serving their excellent service in 11 different countries.
Currently, they have more than 1500 items which is a lot. And they almost sell 5000000 plus products every year online and offline.
I've several products from Cable Matters [including cables, adapters, and more], and they are pretty okay. I also looked at amazon and other online stores and found they have positive reviews.
Here're the reviews; I have checked 5 different Ethernet cables of Cables Matter on Amazon, and the average rating is 4.78 stars out of 5, which is such a fantastic score.
You can check all of their Ethernet cables and their price, reviews, and other specs from this page on Amazon [click here].
#Amazon Basic
Amazon Basic is another great brand to have tech accessories and Ethernet cables. It is a private-label brand from Amazon. And they are doing a fantastic job producing high-quality products for their users.
It was launched in 2009 by Amazon, and as it owns it, it is responsible for creating the best products and maintaining its excellent reputation.
Amazon Basic has a massive segment of Ethernet cables, which are also trendy among users.
I'm also a fan of this brand; I have Ethernet patch cables from this brand I showed you before; here, you can check again.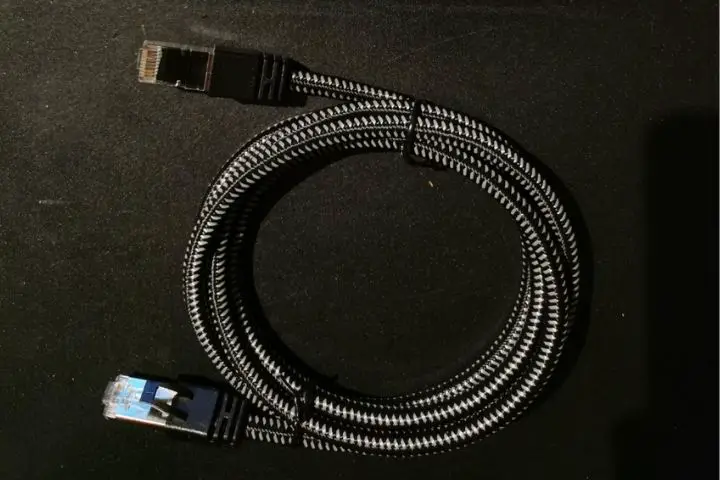 The quality and performance I have with this cable are super. Also, it feels premium on your table. I like this brand for most of the products.
Their best-selling cable has been rated by more than 95k people [as of Q1 2022, numbers can change with time]. The average rating I've found is 4.72 out of 5, again, a good number.
#Monoprice
Monoprice is again an excellent brand for Ethernet cable. This company was founded in 2002, so this is the oldest brand compared to the others I've listed here. You can get any cable from them.
They also have their website, where you can purchase cables.
One of their selling ethernet cables has been rated by nearly 10k people worldwide with a rating of 4.7 out of 5, which is phenomenal.
The company has built great trust with the period. So you can check all of their Ethernet cables on amazon from here.
#Mediabridge
When I heard the name Mediabridge, the things that came to mind were: fantastic build quality, long-lasting cable, and superior performance. Do you know why?
The first Ethernet cable I brought was from this company. And not only me, but so many of my friends [many of them are heavy gamers] are also using this brand.
The price may be a bit high, but I would never think to spend some extra bucks on this brand.
In the stat, you can see that, on average, their top 5 most-selling ethernet cables have more than 10k ratings on amazon. More than 22k people have rated the most sold cable.
You can check all their cables, ratings, and other stuff here on amazon.
#UGREEN
Lastly, UGREEN is another excellent option for ethernet cable users. They are primarily famous for the newest ethernet cables, mean CAT 7 and CAT 8.
People who do heavy stuff like 4k streaming, serious gaming, and others have brought cables from this brand.
Although I like to stick with CAT 6 and don't have enough experience with the newest ones on amazon, I've seen people have good times with these cables.
Also, an average of 10k people have reviewed their top 5 most sold ethernet cables. You can check all their ethernet cables and reviews from here on amazon.
Best Brands of Bulk Ethernet Cable
Bulk ethernet cables are long ethernet cables, up to 1000 feet available, used to connect multiple computers in different rooms. It is for networking, so don't confuse guys with regular patch cables.
Here are some best brands of Ethernet cables for Bulk or contracted works:
Truecable [Best Overall]
Fast Cat
Cables2Go
Belden
Berk-Tek
Commscope [Systimax line]
Southwire
Tripp-Lite
PCH Cables [cheap price]
InstallerParts
Note: These are not for the normal users who use patch ethernet cables. These brands are for Bulk or contracted works.
Cheap vs. Expensive Ethernet Cables Which Is Best?
If you're concerned about cheap and expensive ethernet cable, here are the facts you should know.
A suitable Ethernet cable might be expensive because it can be made with good materials. The cable can have solid copper to enhance capacitance and connection. The expensive cable can also have an extra twist, a good braid, a good jacket to protect from water, and a perfect shield to eliminate EMI.
Also, some other features you might have with an expensive ethernet cable that a cheap one might not be able to offer.
Nowadays, many brands are offering cheap ethernet cables to increase their sales. But they are probably taking a shortcut by adding CCA or Copper Cladded Aluminum wires to reduce their expenses and get a good margin instead of a low price, as the copper price is high.
But, this CCA can oxidize after a few times, and your cable will fail to give you a stable connection.
That's why your Ethernet should be made with full copper. And most trusted brands don't compromise with the quality of their cables.
Hence, the price of ethernet cable matters if you're a heavy internet user looking for a perfect and long-term durable cable.
The price can also depend upon the category of the Ethernet, taxes, and others.
Sources
https://www.netwerkkabel.eu/en/blogs/blog/what-is-the-difference-between-cca-and-100-copper/#:~:text=When%20using%20a%20CCA%20cable,to%20distances%20of%20100%20meters.